Isn't this pink peony beautiful? It's the very first picture that I took when I bought my new digital camera a few weeks ago. I went outside this afternoon looking for some more flowers to take pictures of, but it's so hot and dry here right now that everything is looking really droopy. We have been watering our flowers every night, but it still doesn't seem to be enough.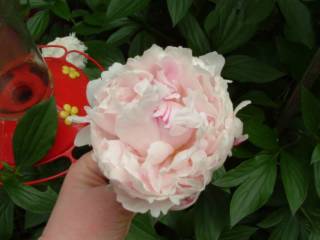 Pink Peony

I haven't been knitting much for the past few days. My shoulder doesn't seem to be getting any better. I first thought I had slept on it wrong, but it has lasted so long now (a week) that I don't know what to make of it. I have been taking Ibuprofen and alternating cold and heat. My husband, Eddie, has been massaging my neck and shoulder trying to loosen it up. That really helps more than anything else. It makes it feel better for awhile, then comes back awhile later.
I hope to get back to knitting soon, but right now it's just not enjoyable with my neck and shoulder stiffness the way it is. I guess I better not push it until I can see a doctor and find out what I'm really supposed to be doing and not doing to help it get better. The good thing is that it doesn't keep me awake at night because I'm not moving around that much when I'm sleeping. It only hurts when I move.