Today on the way home from work I decided to stop by Books-A-Million to look for some knitting books. I found several that I was interested in, but I decided not to buy any right now. On the way out I stopped near the front of the store and looked at the gift items. I found this neat set of Elvis playing cards. There is a different picture on each card and this set covers the 50's. The box said there was another set that covers the mid-60's to mid-70's. They remind me of some Elvis trading cards that were for sale a few years ago. They had a set of Marilyn Monroe playing cards that were really nice that also had a different picture on each card. I decided not to buy those, but I might change my mind.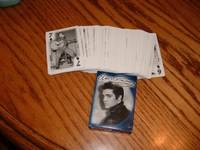 Elvis playing cards

As I was going up to the cash register to pay for the Elvis cards I spotted a neat set of Kitty playing cards. They are shaped kind of like an oval and I decided that instead of using them to play cards, I would just use them for bookmarks. The plastic kitty shaped container was cute too.
Kitty playing cards

Earlier in the week I bought some Mary Kay cosmetics from a coworker and got this neat makeup bag as a gift. It's really cute and it looks to me like it could hold some knitting supplies.
Makup bag?