I finally finished my sock monkey stocking. It took awhile, but it came out really well. It's really HUGE, and it's really pretty. I think I might take it to work and put it up in my office, or I might just put it up on my mantle at Christmas. It was really fun to make and I enjoyed making it. To be honest, I was surprised that I made it so easily. I have not had too much experience knitting socks. I have knit a couple of pair, but this stocking looked fairly easy, and it was for the most part. I knitted the top of the sock and the leg on circular needles, then switched to dpns when I got to the toe part. The only really tricky part for me was when I got to the heel and the directions said to knit some waste yarn in. That was no problem, but after I finished the stocking I went back to the heel. I had to put the stitches above and below the waste yarn on needles, and then
very carefully
take out the waste yarn. I thought I was going to have to take it to my yarn store for help, but I figured it out myself. It wasn't as bad as I thought it would be.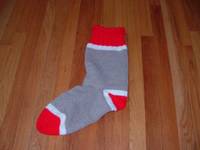 Sock Monkey Stocking

Now, I'm working on my sweater that my knitting guild is knitting. I'm still not sure how it's going to look, but at any rate I will be learning something, so I'm going to go on with it. I'm also still working on my Kitty Pi for my kitty, Heckle. He will probably sniff it a few times and then leave it. Oh well, it will be fun to make anyway, and I will have learned something new, like felting.