I took some pictures of the quilt blocks I worked on this weekend. I was able to do one sample block yesterday before my company came, and I made the other 3 blocks today. I was really pleased with the way they came out.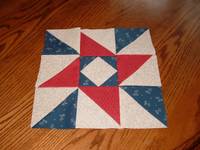 Block2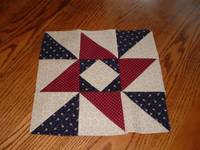 Block3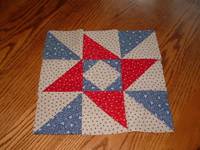 Block4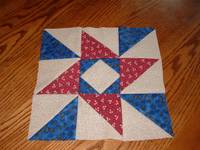 Block1

Our company has been here and left. They were planning to leave today to go back home to Virginia. They had already been here for 9 days, so I'm sure they were all ready to get back home to familiar surroundings. We had a great time. I enjoyed having them very much. I didn't realize how much we had done to prepare for their visit. I was very tired last night after they left, and I have been tired today too. And to beat it all, I guess there was just so much going on and so much commotion that I totally forgot to give my cousins their dishcloths that I had spent all week working on just so I could give them to them. I was really aggravated at myself for forgetting that. I guess I will have to mail them. Sigh... There were a couple of other things that I meant to do too that I forgot, but they weren't major things. Just some details that would have been nice to do. Such as lighting candles, etc.
Eddie is not feeling well. We slept with the ceiling fan turned on low a couple of nights ago and now he's all stopped up like he has a cold, or it might be recurrence of allergies. Since this has happened to him before when we slept under a ceiling fan, I guess we won't be doing that again. I'll probably just use it in the afternoons when I get home from work and need a nap. I'll turn it on and lie down on that nice, comfy bed and curl up with my cat, Heckle, and take a nice catnap. Speaking of which .... maybe I'll go take one now.